Gold hits over one-week low as dollar gains ground
Spot gold fell 0.1 percent to $1,898.28 per ounce by 0347 GMT, after hitting $1,890.19, its lowest since October 15. US gold futures were down 0.3 percent at $1,899.30. "In the near-term, there seems to be a lack of impetus to find extra buyers (for gold)… A lot of it is because we're trading in the looming shadow of the US elections and stimulus speculation," said IG Markets analyst Kyle Rodda. The dollar index was up 0.2 percent against a basket of currencies.
Future Group-RIL deal on hold: RIL down 2%, Future Retail tanks 9%
Reliance Industries and Future Group stocks on Monday after the Future Group-RIL deal was stayed granting relief to Amazon. A Singapore arbitration panel has put on hold Future Group's $3.38 billion asset sale to Reliance Industries, an interim win for Amazon. The stock fell as much as 2.2 percent to Rs 2,064.45 per share on BSE. Meanwhile, Future Group stocks also decline post the stay order. Future Retail shed over 9 percent to Rs 70.55, while Future Enterprises and Future Consumer were locked in their respective 5 percent lower circuits on BSE. Amazon had alleged the deal between the Indian firms breached existing agreements and had sought emergency arbitration to seek a stay on the on the deal until the arbitration process is complete, sources told CNBC-TV18.
Kotak Mahindra Bank has been aggressively eyeing a big acquisition for 3 years sources say. Axis Bank, IndusInd Bank have eyed strategic investors since early 2020. pic.twitter.com/TGitblsPRa

— CNBC-TV18 (@CNBCTV18Live) October 26, 2020
Reliance reverses salary cut; employees to get arrears
Reliance Industries is restoring salary cuts that it implemented amid the coronavirus lockdown in April-May 2020, retrospectively. The move is significant as it signals economic recovery in the country from the height of the COVID-19 pandemic. Moreover, it indicates that RIL believes the worst of the pandemic is behind us and things look better in future. In a mail sent to 3.5 lakh direct employees in the group's many businesses, the company said it was reversing the salary cut retrospectively and arrears would be credited to employee accounts, with the October salary. This would put a lot of money to spend in the hands of the group's employees and families and help add to the demand push in the economy. More here
Opening Bell: Sensex opens marginally lower, Nifty hold 11,900; metal stocks fall
Indian shares opened with minor cuts on Monday as Asian peers remained cautious on surging coronavirus cases in Europe and the United States. Gains in FMCG and pharma sectors were capped by losses in metals and IT stocks. At 9:18 am, the Sensex was trading 82 points lower at 40,603 while the Nifty fell 19 points to 11,911. The Nifty Metal index fell 0.8 percent and Nifty IT lost 0.4 percent.  Meanwhile Nifty Bank and Nifty Fin Servcies shed 0.2 percent each. However, Nifty FMCG, and Nifty Pharma rose at opening. IndusInd Bank, Nestle, L&T, Tata Motors, and NTPC were the top gainers while JSW Steel, Tech Mahindra, RIL, Tata Steel, and SBI led the losses.
RBI Governor tests positive for coronavirus
RBI Governor Shaktikanta Das said on Sunday he had tested positive for the coronavirus, the latest high profile name in the country to contract the virus. "I have tested Covid-19 positive. Asymptomatic. Feeling very much alright," Das said in a tweet. "Will continue to work from isolation. Work in the RBI (Reserve Bank of India) will go on normally," he said. Many top Indian politicians including Home Minister Amit Shah and actors such as Amitabh Bachchan have tested positive for the virus, and since recovered.
Here are a few global cues ahead of today's trade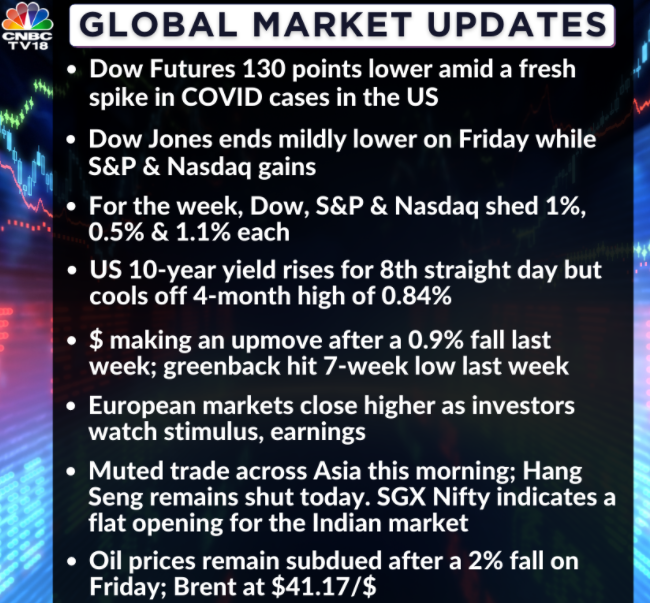 Asia shares turn muted as S&P 500 futures slip
Asian shares got off to a subdued start on Monday as surging coronavirus cases in Europe and the United States threatened the global outlook, while China's leaders meet to ponder the future of the economic giant. The United States has seen its highest ever number of new COVID-19 cases in the past two days, while France also set unwanted case records and Spain announced a state of emergency. MSCI's broadest index of Asia-Pacific shares outside Japan went flat, still short of its recent 31-month peak. Japan's Nikkei dithered either side of steady, and South Korea's main index lost 0.3 percent. 
Interim stay on Future Group-RIL deal as Amazon gets relief from emergency arbitration
Amazon on Sunday said that it had been granted relief by an emergency arbitrator in Singapore to get an interim stay on Future Group's deal with Reliance Retail, in which Reliance has sought to purchase Future's retail assets. Amazon had sought emergency arbitration to seek a stay on the deal until the arbitration process is complete, sources told CNBC-TV18. In a statement, Amazon said: "We welcome the award of the Emergency Arbitrator. We are grateful for the order which grants all the reliefs that were sought. We remain committed to an expeditious conclusion of the arbitration process." Reliance Retail said that the company was informed of an interim order passed by the Emergency Arbitrator in the arbitration proceedings invoked by Amazon under a shareholders' agreement with the promoters of Future Group. More here
Oil falls more than 1% as surging COVID-19 cases stoke demand fears
Oil prices fell on Monday, extending last week's losses, as a jump in COVID-19 infections in the United States and Europe raised alarms over crude demand, while the prospect of increased supply also hurt sentiment. Brent crude was down by 53 cents, or 1.3 percent, at $41.24 by 0052 GMT. US West Texas Intermediate (WTI) dropped 53 cents, or 1.3 percent, to $39.32, having fallen more than a dollar shortly after the start of trading. Brent fell 2.7 percent last week and WTI dropped 2.5 percent. "A resurgence in COVID-19 cases in Europe and North America has stopped the recovery in demand in its tracks," ANZ Research said in a note.
IndusInd Bank says report on merger with Kotak Mahindra Bank is 'untrue and malicious'
The promoter of IndusInd Bank, IndusInd International Holdings Ltd (IIHL), a Mauritius-based company denied a report that claimed Kotak Mahindra Bank was exploring to take over the bank. In a statement sent to CNBC-TV18, IndusInd Bank said, "The promoter of IndusInd Bank, IndusInd International Holdings Limited (IIHL), completely denies the said rumour and considers it malicious, untrue and baseless. IIHL is promoted by the Hindujas and broad base of other successful NRIs from the overseas Indian diaspora. They reiterate their full support to the IndusInd Bank, now and always." More here
First up, here is quick catchup of what happened in the markets on Friday
Indian domestic equity indices ended higher on Friday led by auto stocks. Maruti Suzuki was the Nifty50 top gainer and ended over 4 percent higher. M&M and Bajaj Auto were also amongst the index top gainers today. Broader markets outperformed the benchmarks, closed little higher than half a percent each. Nifty Realty remained the worst-performing index of the day. The Sensex ended 127.01 points or 0.31 percent higher at 40,685.50 while the Nifty gained 33.90 points or 0.28 percent to close at 11,930.35. Broader indices supported the upside momentum with Nifty Smallcap and Nifty Midcap indices gaining over 0.6 percent and 0.7 percent, respectively.
Welcome to CNBC-TV18's Market Live Blog
Good morning, readers! I am Pranati Deva the market's desk of CNBC-TV18. Welcome to our market blog, where we provide rolling live news coverage of the latest events in the stock market, business and economy. We will also get you instant reactions and guests from our stellar lineup of TV guests and in-house editors, researchers, and reporters. If you are an investor, here is wishing you a great trading day. Good luck!