Opening Bell: Sensex, Nifty start the week on a positive note; IT stocks, banks gain
Indian indices started the week on a positive note following gains in Asian peers and US stock futures after on hopes that President Donald Trump could be discharged from hospital later in the day. Trump, 74, was flown to hospital for treatment for the coronavirus on Friday, but his doctors say he has responded well and could return to the White House on Monday. At 9:18 am, the Sensex was trading 341 points higher at 39,038 while the Nifty rose 67 pointa at 11,484. Most key sectoral indices witnessed buying with IT, bank and auto indices leading the pack. Broader markets were also up with Nifty Midcap and Nifty Smallcap indices up over half a percent. TCS, Tata Motors, Hero Moto, Tata Steel, and Wipro were the top gainers on the Nifty50 index while Nestle, HDFC, Asian Paints, Bharti Airtel, and UltraTech Cement led the losses.
TCS Board to consider share buyback on Oct 7
India's largest IT services firm Tata Consultancy Services' board will meet later this week to consider a share buyback proposal. "…the board of directors will consider a proposal for buyback of equity shares of the company, at its meeting to be held on October 7, 2020," Tata Consultancy Services (TCS) said in a regulatory filing on Sunday night. No other details of the buyback plan were disclosed. The board is also slated to consider its financial results for the September quarter and declaration of a second interim dividend to the equity shareholders at that meeting. In 2018, the Mumbai-based company had undertaken a share buyback programme worth up to Rs 16,000 crore. The buyback, at Rs 2,100 per equity share, had entailed up to 7.61 crore shares. In 2017 too, TCS had undertaken a similar share purchase programme. TCS had announced the mega buyback offer as part of its long-term capital allocation policy of returning excess cash to shareholders.
Oil prices claw back 2% after upbeat signals from Trump doctors
Oil prices rose about 2 percent on Monday, lifted by comments from doctors for US President Donald Trump suggesting he could be discharged from hospital as soon as Monday, just a few days after his positive test for COVID-19 sparked widespread alarm. Trump's health update eased political uncertainty in global markets, pushing Brent up to USD 39.96 a barrel by 0232 GMT, gaining 69 cents or 1.8 percent. US West Texas Intermediate (WTI) crude was at USD 37.81 a barrel, up 76 cents, or 2.1 percent. Prices had slumped more than 4 percent on Friday amid uncertainty surrounding Trump's health, adding to concern that rising coronavirus case numbers that could dampen global economic recovery. But analysts said Monday's rebound was driven by an easing of the worst fears about Trump's health condition, albeit clouded by some mixed signals.
SEBI bars IIFL dealer, 5 others for front running trades using 'mule' accounts
Market regulator SEBI has barred Santosh B Singh, a dealer at broking firm IIFL, and five of his associates from any stock market transactions till further notice, for front running trades. The IIFL Group's Mutual Fund schemes, Portfolio Management Services and Alternative Investment Funds were placing orders through IIFL dealer Santosh Singh. The SEBI probe found that during the period between December 2019 and August 2020, the trades placed by these funds were being 'front run'.
Front running is the act of illegally buying or selling shares ahead of a substantial order by a client of a broking firm. If it is a large buy order, the front runner will buy the stock in his personal account and when the client's order causes the stock price to rise, the front runner will sell out his position at a profit. Likewise, if it is a large sell order, the front runner will short sell the shares or its futures beforehand, and when the client's order gets executed and causes the price to fall, the frontrunner will square up his short position at a profit. 
. @YESBANK Q2 Update: (QoQ)
Loans & Advances Up 1.4% At Rs 1.67 Lk Cr, Deposits Up 15.7% At Rs 1.36 Lk Cr, Credit-to-deposit Ratio At 122.9% Vs 140.2% & Liquidity Coverage Ratio At 105.4% Vs 114.1% (QoQ) pic.twitter.com/tpnluhBjFX

— CNBC-TV18 (@CNBCTV18Live) October 5, 2020
Here are a few global cues ahead of today's trade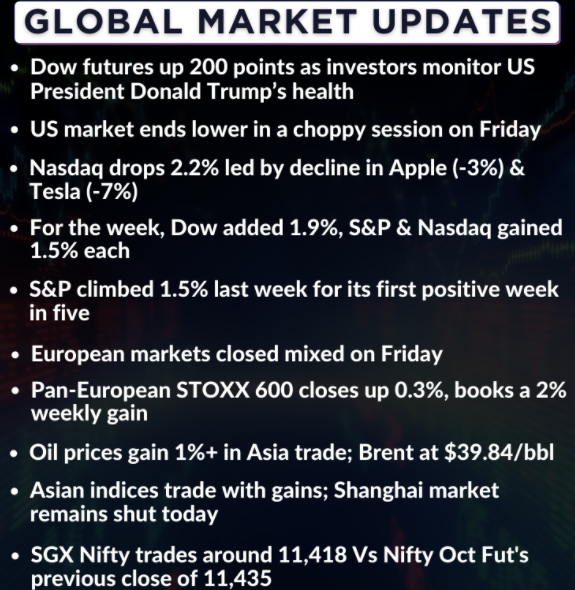 FPIs turn net sellers after 3 months in September; pull out Rs 3,419 crore
Snapping their three-month buying spree, overseas investors turned net sellers in Indian markets in September due to uncertainty ahead of the US presidential polls and surging coronavirus cases. Foreign investors withdrew Rs 3,419 crore on net basis from Indian markets in September, according to depositories data. A net of Rs 7,783 crore was withdrawn from equities while the debt segment saw inflows of Rs 4,364 crore. Foreign portfolio investors (FPI) adopted a cautious stance ahead of the US presidential election and renewed fears due to rising COVID-19 cases, among others, experts said. FPIs had been net buyers in Indian markets in the three straight months to August. They had invested Rs 46,532 crore in August, Rs 3,301 crore in July and Rs 24,053 crore in June on net basis. More here
Global Markets: U.S. stock futures rise on Trump's health progress
U.S. stock futures rose on Monday on hopes that President Donald Trump could be discharged from hospital later in the day, easing some of the political uncertainty that shook Wall Street in the previous session. Trump, 74, was flown to hospital for treatment for the coronavirus on Friday, but his doctors say he has responded well and could return to the White House on Monday. S&P 500 e-mini futures rose 0.45 percent in early Asian trading, while Nasdaq futures gained 0.58 percent. Asian markets looked set to follow that lead with Australian S&P/ASX 200 futures up 1.16 percent, Japanese stock futures rising 0.75 percent, and Hong Kong's Hang Seng index futures up 1.38 percent.
First up, here is quick catchup of what happened in the markets on Thursday
Indian shares ended over 1.5 percent higher on Thursday led by gains in banking and media stocks. Meanwhile, Renewed US stimulus hopes kept the global markets lifted as well further aiding the sentiment. The Sensex ended 629 points higher at 38,697 while the Nifty rose 169 points to settle at 11,417. For the week, both indices were up over 3 percent each.Broader markets underperformed indices but were also up for the day. Nifty Midcap and Nifty Smallcap rose 0.8 percent and 0.6 percent, respectively. All sectors also witnessed buying during the day led by Nifty Bank which rallied over 3.6 percent. Nifty Fin Services and Nifty Media also added around 3 percent each while auto, It and metal sectors rose -.8 percent for the day. The markets were closed on Friday on account of Gandhi Jayanti.
Welcome to CNBC-TV18's Market Live Blog
Good morning, readers! I am Pranati Deva the market's desk of CNBC-TV18. Welcome to our market blog, where we provide rolling live news coverage of the latest events in the stock market, business and economy. We will also get you instant reactions and guests from our stellar lineup of TV guests and in-house editors, researchers, and reporters. If you are an investor, here is wishing you a great trading day. Good luck!