DGCA increases tariff for air navigation services by 4% for international airlines: Sources
The DGCA has increased tariff for air navigation services by 3.5 percent for domestic airlines and by 4 percent for international airlines. This increase in tariff is valid from Oct 1, 2020, Source told CNBC-TV18.
September Auto Sales | Atul Auto total sales fall by 69.2 percent to 1,633 units as against 5,306 units, YoY.
Market Update | Financials biggest contributors to the Nifty.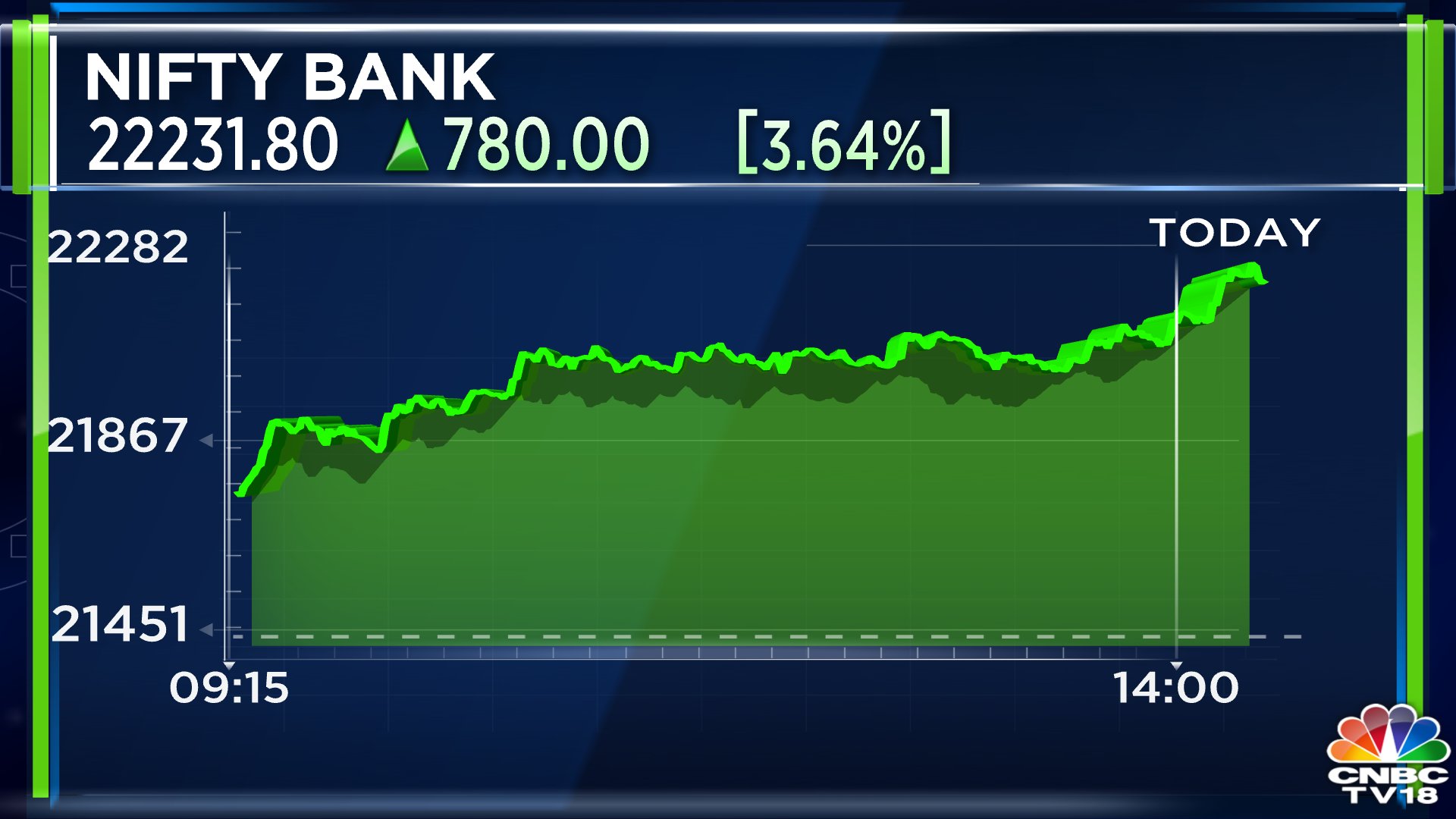 SML Isuzu September Auto Sales | The company's total sales declined 41 percent to 360 units from 614 units, YoY. However, total sales rose by 12.5 percent on MoM basis.
PVR, Inox Leisure's shares surge up to 17% on reopening of cinemas
Investors are betting that things will soon start looking up for PVR and Inox Leisure after a six-month lull with the Ministry of Home Affairs allowing multiplexes to restart operations from October 15, with 50 percent seating capacity. This led shares of PVR and Inox Leisure to rally as much as 18 percent intraday. The stocks have given up some of the initial gains, but are still trading 7-8 percent higher than Wednesday's levels.
Separate standard operating procedure (SOP) guidelines will be issued with respect to the reopening. Meanwhile, the Multiplex Association of India (MAI) has "wholeheartedly" welcomed the Union Home Ministry's decision, especially as the country heads towards an upcoming festive season.
About 9,500 theatres across the country have been shut since March 25 due to the nationwide lockdown following the outbreak of COVID-19. Here's more on this
Chemcon Speciality Chemicals' shares plunge 24% on profit-booking
Chemcon Speciality Chemicals debuted on the stock exchanges with a strong listing of 115 percent at Rs 730.95 on the BSE, over its issue price of Rs 340. However, at 1:45 pm, the shares plunged 24 percent to Rs 586.6 apiece on the NSE from its opening price of Rs 731.
The specialty chemical maker's IPO was subscribed 149 times on its final day of bidding (September 23).
The funds raised from the fresh issue will be utilised to meet the working capital requirement, CAPEX towards the expansion of manufacturing facility and general corporate purposes.
SEBI bars Yash Birla, 3 others from securities market
Capital markets regulator Securities and Exchange Board of India (SEBI) has barred Yashovardhan Birla, the Chairman of Yash Birla Group, and three others from accessing the securities markets in relation to manipulation in the issuance of global depository receipts (GDR) by Birla Cotsyn (India) Ltd in 2010. The other individuals restrained from the market are P.V.R. Murthy, Y.P. Trivedi and Mohandas Adige.
Birla Cotsyn (India) Ltd (BCIL) is currently undergoing liquidation proceedings under the Insolvency and Bankruptcy Code (IBC). Read more here.
Jyoti Roy – DVP- Equity Strategist, Angel Broking Ltd
Maruti Suzuki reported better than expected sales numbers for the month of September 2020. Domestic sales growth was driven by the entry level mini and compact segments which reported growth of by 35.7% YoY and 47.3% YoY respectively driven by increased preference for personalized transportation post Covid-19. While monthly sales numbers are expected to stabilize going forward, the low base of last year is helping growth numbers will go away from October and hence growth rates are expected to moderate from September's very high level.
UTI AMC Day 3 IPO subscription data as on 12 noon:
Qualified Insttutional Buyers: 0.48x,
High Net-worth Individuals: 0.42x,
Retail Investors: 1.47x,
Employees: 0.79x
Total: 0.96x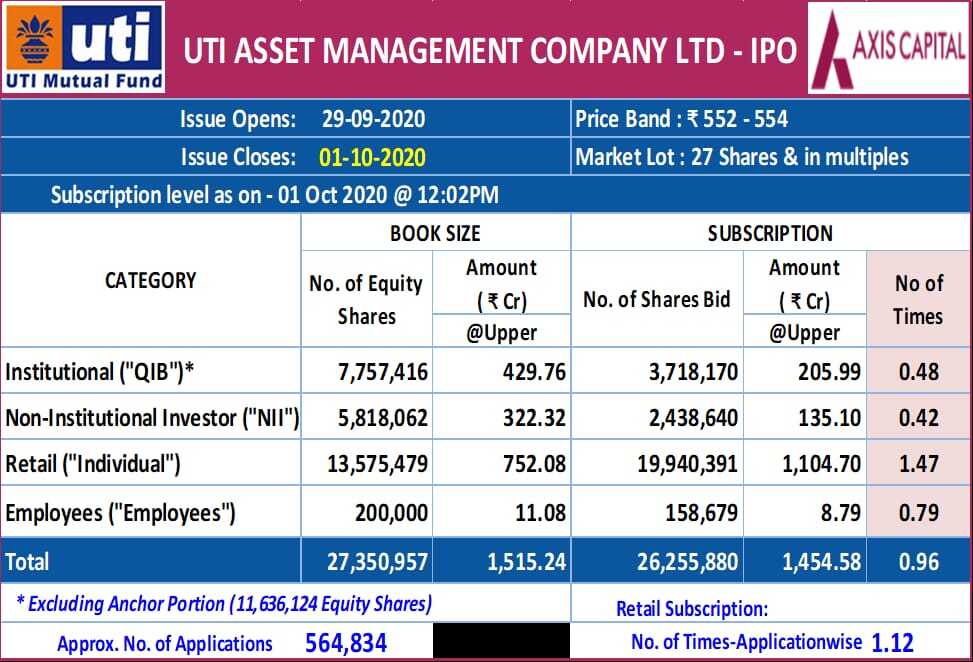 Likhitha Infrastructure IPO to close today: Should you still subscribe?
Hyderabad-based Likhitha Infrastructure opened its initial public offering on September 29 and will close on Thursday. The company has set a price band of Rs 117-120 per share and at the upper band of the price band, the company will raise Rs 61.2 crore through the IPO.
The issue consists of fresh offers only. Of the net proceeds from the the fresh issue, Rs 47 crore will be utilised to meet the working capital requirement, while the rest of the amount will be used for general corporate purposes.
Likhitha is an oil and gas infrastructure service provider in India, focused on laying pipeline networks along with the construction of associated facilities and providing operations and maintenance (O&M) services for city gas distribution projects in India. It has executed projects in more than 16 states and two UTs in India. Read more
October sales expected to be better than September's, says Bajaj Auto official
Bajaj Auto sold 4.41 lakh vehicles in September, an increase of 24 percent over August. The figure was 10 percent higher compared to the same month last year. Speaking to CNBCTV18 on the performance, Rakesh Sharma, ED, Bajaj Auto, said the numbers indicated a great supply chain performance, adding that it was the company's best-ever export performance. The company exported 2.12 lakh vehicles in September. Sharma was hopeful that the festive season sales would be good. He expects October to better than September, with another record month for exports. He said auto financing had resumed, but sales have still not caught up with last year's level, adding that retail sales were around 10 percent lower during the same period last year. Watch the video here
Govt receives eligible bids for only 19 coal mines, Adani places maximum bids
The coal ministry has received two or more eligible bids for only 19 coal mines for its first-ever auction of coal mine for commercial end-use. The ministry began the auction process starting June 18 this year and offered 38 coal mines for auction. It received 76 bids in total for only 23 coal mines as against 38 mines. Adani Enterprises has placed bids for 7 coal mines and Adani Power Resources for 1 coal mine, making it the bidder for the maximum number of coal mines. This is followed by 5 bids placed by Hindalco, 4 bids by JSPL, 3 bid from Vedanta, and 1 bid from JSW. Rungta Mines, which had offered to place bids for coal mines, withdrew in the technical bid opening round. However, Tata Group did not participate in the first commercial coal auction. More here
Global Update: President Donald Trump signed a bill to keep the government running into December after funding briefly lapsed.
JUST IN: ICICI Bank and Bank Of India cut lending rates by 5 bps across tenures
Manufacturing activity expands at fastest pace in 8 years in September: PMI
India's factory activity expanded at its fastest pace in over eight years in September as a relaxation in coronavirus lockdown restrictions drove a surge in demand and output, a private survey showed on Thursday, though layoffs continued. Signs of recovery are welcome news for Asia's third-largest economy, which is widely expected to mark its first full-year contraction since 1979 this year. The pandemic is spreading in India at the fastest pace in the world. The Nikkei Manufacturing Purchasing Managers' Index, compiled by IHS Markit, jumped to 56.8 in September from 52.0 in August, above the 50-level separating growth from contraction for a second straight month. It was the highest reading since January 2012. 
Maruti's total sales jump 31% and exports 9% in the month of September year-on-year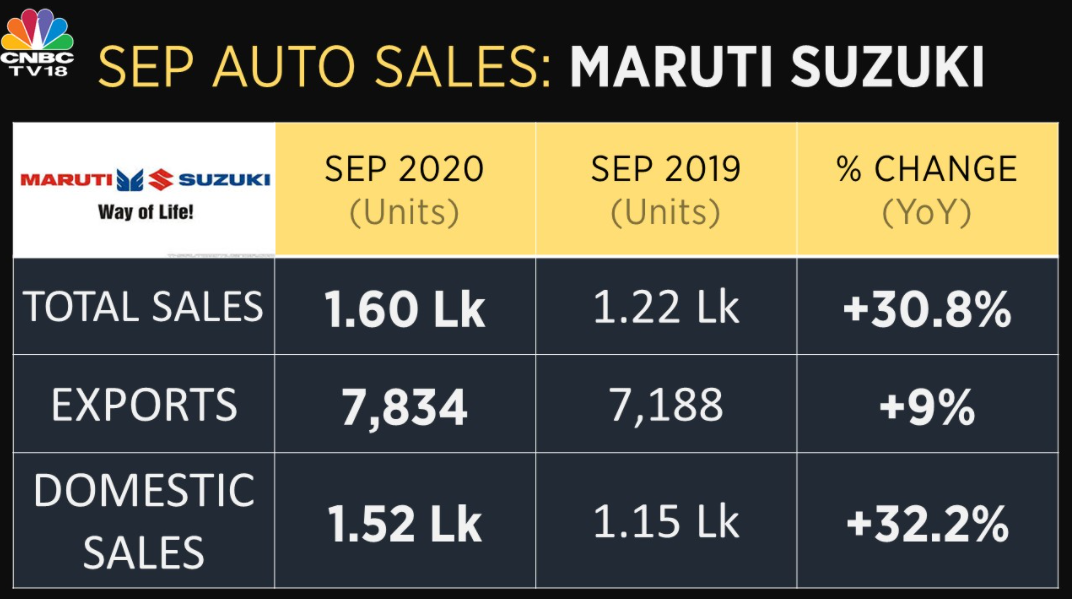 Puneet Chhatwal of Indian Hotels says co will see some bookings as we get into the wedding season.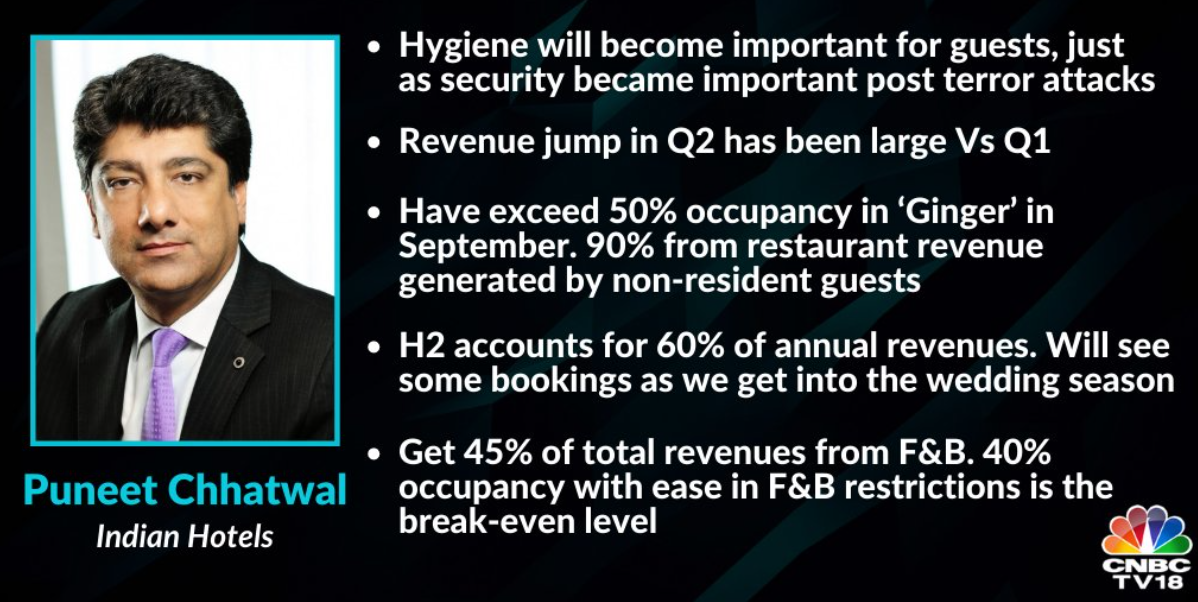 Chemcon Speciality Chemicals debuts with strong listing of 115% premium over issue price
Chemcon Speciality Chemicals debuted on the stock exchanges with a strong listing of 115 percent at Rs 730.95 on the BSE, over its issue price of Rs 340. Shares rose as much as 118 percent from its issue price, at Rs 743.80. The specialty chemical maker's IPO was subscribed 149 times on its final day of bidding (September 23). The funds raised from the fresh issue will be utilised to meet the working capital requirement, CAPEX towards the expansion of manufacturing facility and general corporate purposes.
CAMS lists at Rs 1,527 as against issue price of 1,340 on the BSE
The shares of Computer Age Management Services (CAMS) got listed at Rs 1,518 as against the issue price of Rs 1,340 on the BSE. The initial public offer (IPO) of CAMS got fully subscribed on the second day of the bidding process, and was subscribed nearly 47 times. The Rs 2,244-crore public issue received bids for 1.38 crore equity shares against the offer size of 1.28 crore equity shares. The portion reserved for retail investors was subscribed 1.7 times, while the reserved category of non-institutional investors segment received 32.3 percent subscription. The price band was fixed price band of Rs 1,229-1,230 per share.
Bajaj Auto September Auto Sales | The company's total sales in September 2020 rose 10 percent to 4.41 lakh units as against 4.02 lakh units, YoY. Total sales were up 24 percent, MoM. Domestic sales increased 6 percent to 2.28 lakh units from 2.15 lakh units while exports grew 14 percent to 2.12 lakh units as against 1.86 lakh units, YoY. Two-wheeler sales rose 20 percent to 4.04 lakh units from 3.36 lakh units while three-wheeler sales declined 44 percent to 36,455 units from 65,305 units, YoY. 
Technical View | We are at a fulcrum point – trading above 11,350. It is imperative the markets close above this level for the bulls to take over. From here, we can achieve 11,600 and then 11,800. If we are unable to close past the 11350 marks and make a U-turn, we could drop back to 10,700-10,800, said Manish Hathiramani, Proprietary Index Trader and Technical Analyst, Deen Dayal Investments
Microfinance companies look attractive, says HDFC Securities
Despite a risky business, the microfinance companies have attracted investors over the years due to fast growth and high return ratios. The potential of further business growth due to under-penetration, fat spreads leading to high RoAE and cheap valuations have made microfinanciers a better investment option, analysts said. In the past two years, while broader credit growth has slowed considerably, microcredit growth has fared better. At present, active microcredit borrowers are just 4.3 percent of the population. 10 Indian states account for more than 80 percent of outstanding microcredit and the average outstanding per borrower is around Rs 39,300. More here
Opening Bell: Sensex opens 400 points higher, Nifty above 11,350; financials, auto stocks gain
Indian indices opened higher on Thursday following gains in Asian peers mainly led by banking and auto At 9:18 am, the Sensex was up 391 points at 38,458 while the Nifty rose 108 points to 11,355. Broader markets were also positive for the day with Nifty Midcap and Nifty Smallcap indcies up 0.9 percent and 1.4 percent, respectively. All sectors also witnessed buying in early morning deals. Nifty Bank surged over 1.5 percent while Nifty Fin Servcies and Nifty IT also rose over 1 percent each. The auto and metal indices gained 0.9 percent in trade. On the Nifty5- index, Bajaj Auto, IndusInd Bank, Adani Ports,  Tata Motors, and Tata Steel while ONGC, Eicher Motors, Nestle and GAIL were the only stocks in the red.
Morgan Stanley is OVERWEIGHT on Reliance Ind, target at Rs 2,247/share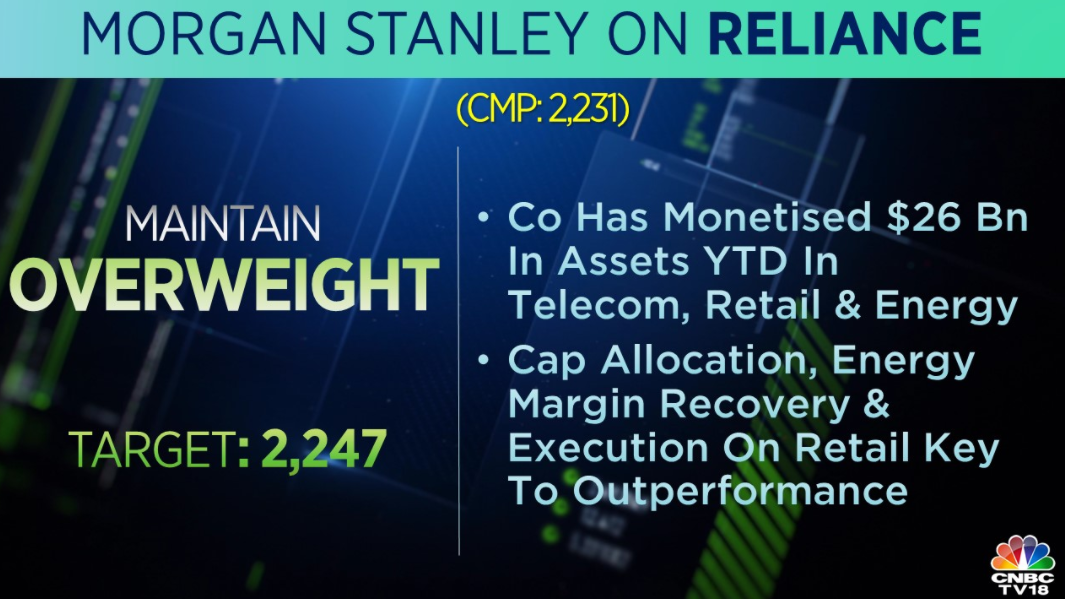 Voda Idea AGM: KM Birla says fund raise of Rs 25K cr sufficient for now
Debt-laden telecom operator Vodafone Idea Ltd (VIL) held its annual general meeting on September 30, to, among other things, seek shareholders' approval to raise a previous borrowing limit of Rs 25,000 crore to Rs 1 lakh crore. At the meeting, shareholders questioned the company's decision to spend money on rebranding and IPL marketing, even as it has been incurring losses. Vodafone Idea, rebranded itself as Vi (read as 'we') on September 7. Chairman Kumar Mangalam Birla whose Aditya Birla Group is joint promoter of VIL alongwith Vodafone Plc, said that tariffs continue to be the lowest in India, while data consumption in the country is the highest in the world. Here are the key takeaways from the AGM
Domestic gas price cut by 25%, negative for ONGC, OIL; positive for end users
The price of domestic natural gas for the second half of the financial year 2020-21 is cut by 25.1 percent to $1.79 per MMBTU as against the earlier price of $2.39 per MMBTU. The ceiling price for deepwater natural gas is set at $4.06 per MMBTU for the period starting October 1 until March 31, which was earlier at $5.61 per MMBTU. The sharp cut in the domestic natural gas price comes on the back of a cut in global prices, also impacted due to the coronavirus pandemic, which has lowered demand while production is higher. The impact of the price cut will be on companies like ONGC and Oil India which are into exploration and production of 80 percent of domestically produced natural gas in India. The move will impact both realisation and profitability of the companies, as crude prices have not recovered from their lows. More here