Market Watch: Gautam Duggad, Head of Research for Institutional Equities at Motilal Oswal Financial Services
On AMCs
This is the space, which is going to be around for a long time and this is just the third AMC, which is getting listed. Over the next two years, you will see many AMCs, which will get listed. From a longer-term point of view, AMCs are going to have a very strong future in my view given the level where we stand as far as the financialisation of savings is concerned.
On OMCs
Within the oil marketing companies (OMCs) if you force me to choose one stock then my analyst has a positive view on Indian Oil Corporation (IOC) purely because of low valuations and dividend yields. I will ideally avoid this space because there are far too many moving parts in OMCs – I would avoid this space whether it is Bharat Petroleum Corporation Ltd (BPCL) or Hindustan Petroleum Corporation Ltd (HPCL) or IOC but if you force me to choose one amongst the three then we have a slightly positive bias towards IOC given the valuation.
Here are a few global cues ahead of trade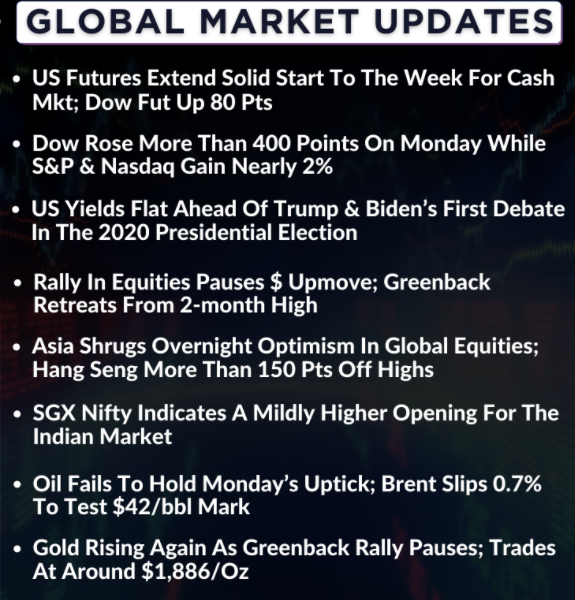 JUST IN | Sources say AMFI submits proposal that SEBI should be sole authority for investigating, punishing MFs. The proposal comes after an FIR was filed against Franklin Templeton officials last week
CNBC-TV18 Newsbreak Confirmed | Vedanta schedule for delisting is out; bid opens on October 5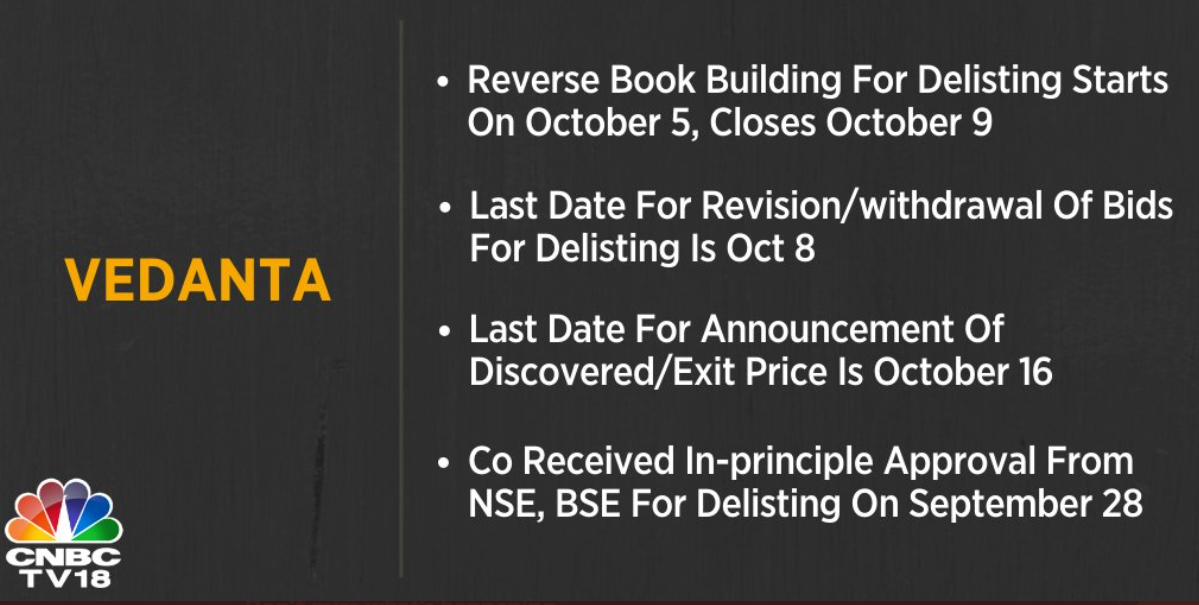 Asian markets push higher after US bounce
Asian markets largely opened higher on Tuesday, building on newfound momentum after bargain hunters helped a recovery in US markets in the wake of last week's selloff. Hong Kong's Hang Seng index was up 0.2 percent while Chi83nese shares opened higher with the blue-chip CSI 300 index up 0.41 percent. MSCI's broadest index of Asia-Pacific shares outside Japan advanced 0.39 percent to 555.01. Japan's benchmark Nikkei average, however, dropped 0.61 percent as telecom stocks fell after Nippon Telegraph and Telephone Corp announced a USD 38 billion take-private of its wireless carrier business, paving the way for price cuts in the sector. Australia's S&P/ASX 200 index rose 0.22 percent, while New Zealand's S&P/NZX 50 index edged down 0.27 percent after rising in early trade. More here
Trump vs Biden: How US election outcome could impact global markets
The US presidential election for 2020 pitting President Donald Trump against former Vice-President Joe Biden is less than two months away and its outcome is more uncertain than ever. Markets across the globe have reacted sharply to US election results in the past and reports suggest that 10 days after a presidential election, a Democratic victory tended to be less positive for the S&P 500 and S&P MidCap 400. One hundred days after the election, a Republican victory tended to be less positive for the equity market than a Democratic win, but Barack Obama's first election win is an exclusion, which happened amid the 2008 financial crisis.
According to Societe Generale, a global financial services firm, a second term for Trump would be marginally more positive for the US equity market than a Biden presidency. "The US election process is likely to trigger a bumpy road ahead – beware of the risk of a delayed/contested election outcome – but won't cause a disruption to the uptrend we still expect for US equities overall as the early stage of the economic cycle gets priced-in. Better to leverage the outcome through individual sectors and single stocks," Societe Generale said in a report. More here
First up, here is quick catchup of what happened in the markets on Monday
Indian shares ended over 1.5 percent higher on Monday mainly led by gains in bank stocks, while gains in Asian markets further uplifted the sentiment. State-owned banking stocks rose with the Nifty PSU Bank index up over 3 percent on hopes that the government may infuse some capital into the sector. The Sensex ended 593 points higher at 38,981 while the Nifty rose 177 points to settle at 11,227. Broader markets outperformed benchmarks with the Nifty Midcap index up 3 percent and Nifty Smallcap index adding 3.7 percent for the day.
Welcome to CNBC-TV18's Market Live Blog
Good morning, readers! I am Pranati Deva the market's desk of CNBC-TV18. Welcome to our market blog, where we provide rolling live news coverage of the latest events in the stock market, business and economy. We will also get you instant reactions and guests from our stellar lineup of TV guests and in-house editors, researchers, and reporters. If you are an investor, here is wishing you a great trading day. Good luck!